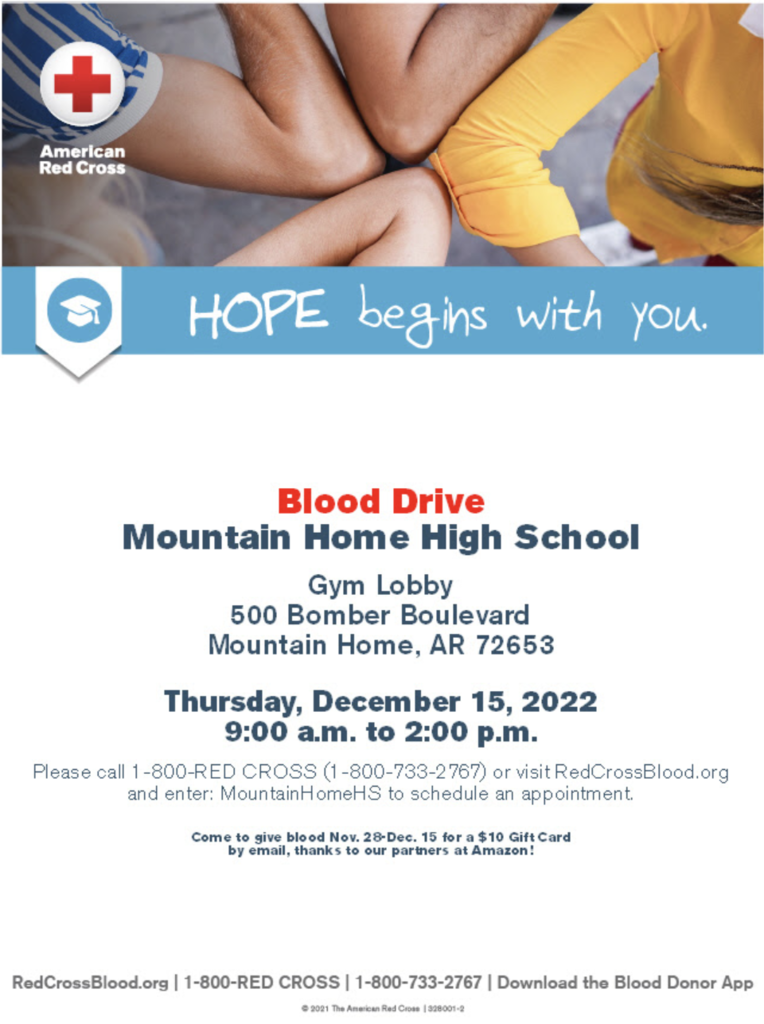 MHHS National Honor Society recently inducted 47 New Members into their Chapter. The NHS program empowers and equips students with the knowledge and skills to be transformative leaders in our school, community, and beyond. We look forward to seeing these students grow at MHHS and accomplish great things through NHS!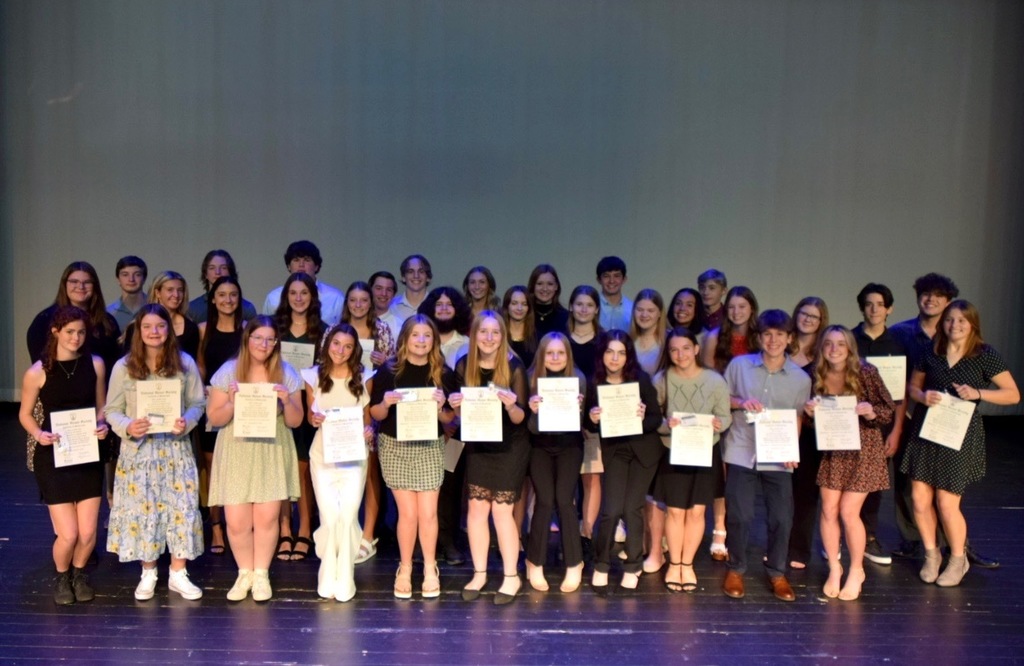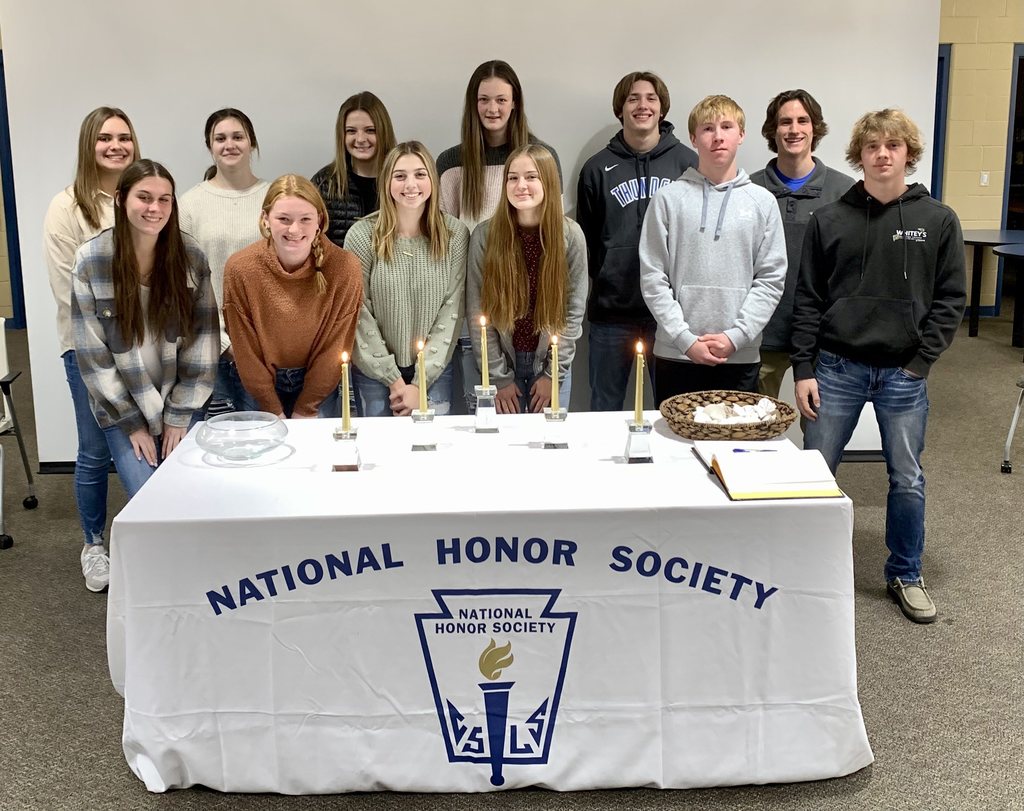 Steve Davis with iCEV recognized the 2021-22 Marketing Business Enterprise students for earning their Southwest Airlines Professional Communication Industry Certification. 86% (12 out of 14 students) of the class earned this certification. Pictured: Mrs. Russell, Audrey Young, Addison Farris, Mrs. Sheri Smith, Kylie Dover, Mr. Steve Davis with iCEV, Dakotah Hicks.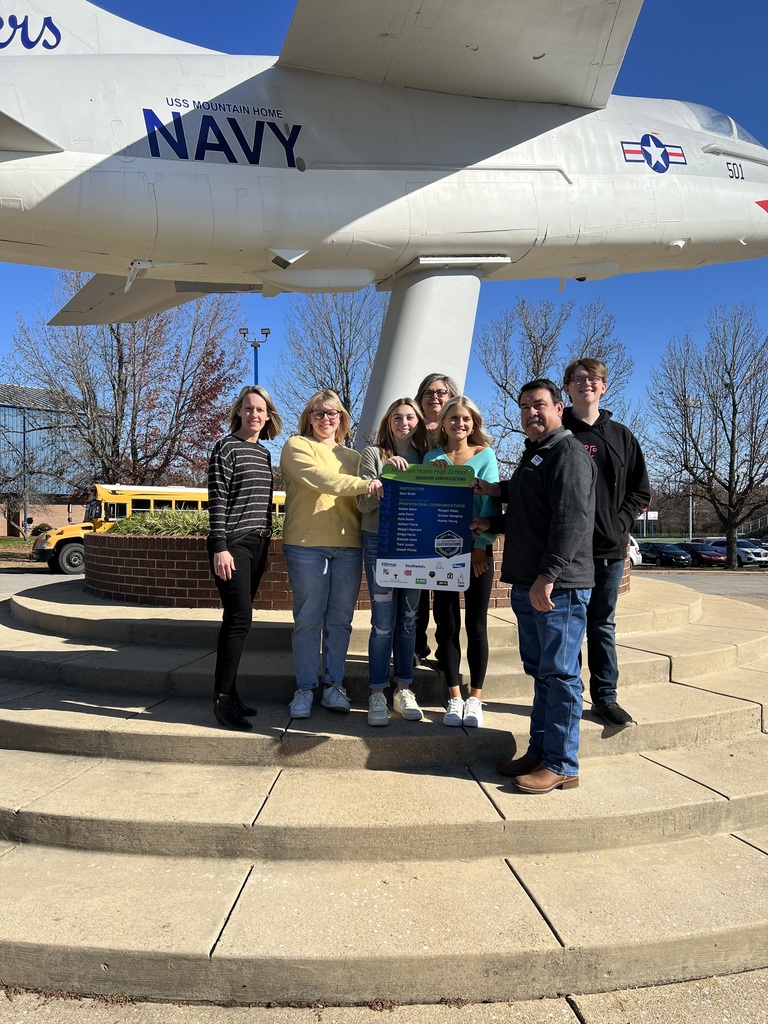 Congratulations to the October MHHSCA Students and Teachers of the Month and thank you to our sponsor First Community Bank of Mountain Home!!! ACME: SOM--Jack Sheaner TOM-Mr. Garrett Rucker CAB: SOM--Gabriella Dover TOM--Mrs.Tammye Quick HHS: SOM--Cade Yates TOM--Coach Bobby Bevel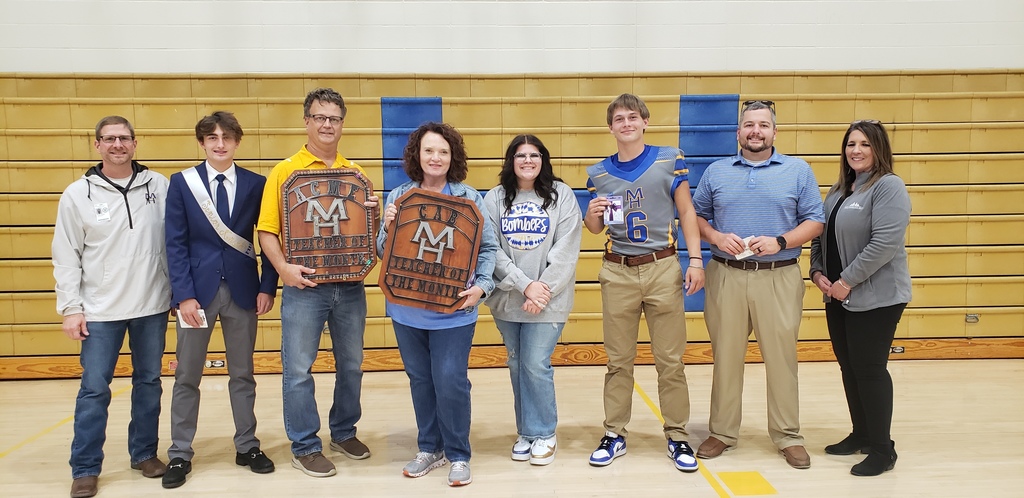 Mrs. Lawrence's Artist of the Week November 14, 2022 Student: Natali Fernandez 10th Grade Title: Implied Lines Medium: Pen and Ink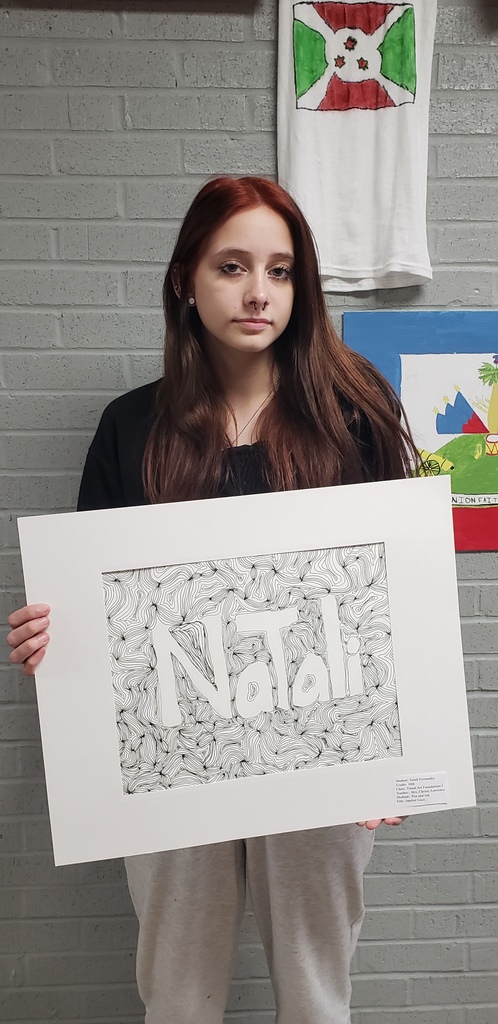 Mrs. Lawrence's Artist of the Week November 7, 2022 Student: Addyson Dwyer Grade: 10th Medium: Pen, ink and colored pencil Title: Calligraphy

Mr. Charles Milling received his honorary diploma from Mountain Home High School today during the annual 'Freedom Is Not Free' Veterans Ceremony at MHHS. Mr. Milling was unable to complete his education due to service obligations. We thank him and all veterans for their service.

The MHHS NJROTC will host its annual "Freedom Is Not Free" Veterans Ceremony on the high school campus in Dunbar Auditorium on Thursday, November 10 at 9 a.m. Veterans will be recognized and honored by students, faculty, community members, and political officials. Patriotic and service branch songs will be performed by the MHHS band and MHHS choir students. As in years past, area veterans and their family members/friends are invited to attend this event. High school NJROTC cadets will perform a 12-man color guard that represents all service branches. The NJROTC will also perform a flag detail, showing how to properly fold a flag and what each of the 13 folds means. During this event, an honorary Mountain Home High School diploma will be presented to a veteran who was unable to complete his high school education due to service obligations.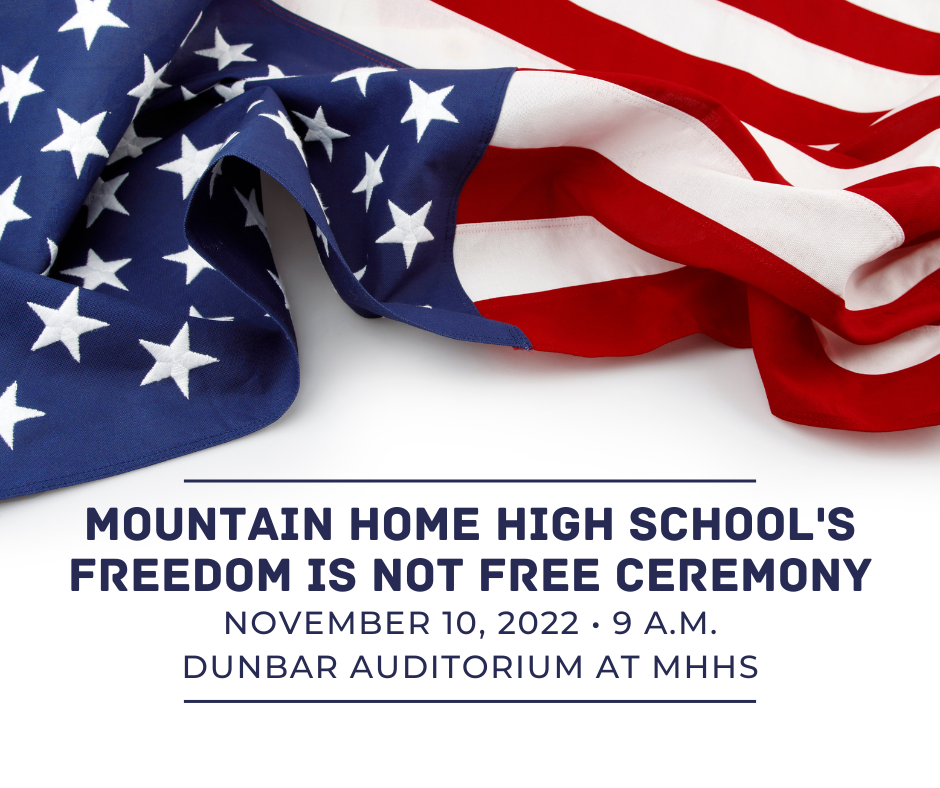 Does my child do the same things other children his or her age do? Some children need help walking, talking, seeing, hearing, or learning. Child Find is a legal requirement that schools find all children who have disabilities and who may be entitled to special education services. If you feel your child needs help, contact the professionals at your local school district or the Arkansas Special Education Resource Center (ASERC) at 1-800-482-8437. Special education services are available to all eligible children birth to 21, in both public and private, including children who are highly mobile, homeless and wards of the state. Early detection is the key to helping your child get off to a good start. Getting help today prepares your child for future success. For more information call the Mountain Home Public Schools Special Education Department at (870)425-1247.
www.archildfind.org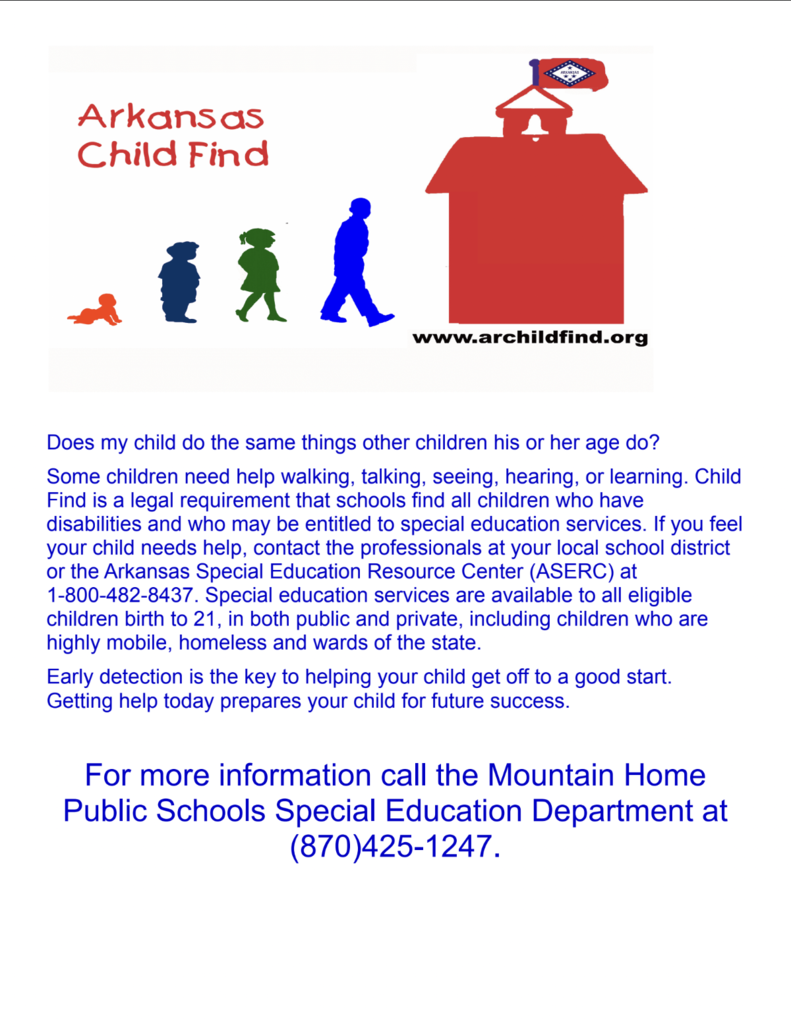 Mrs. Lawrence's Artist of the Week for October 7: Tucker Davidson 12th Grade "Four Months" Acrylic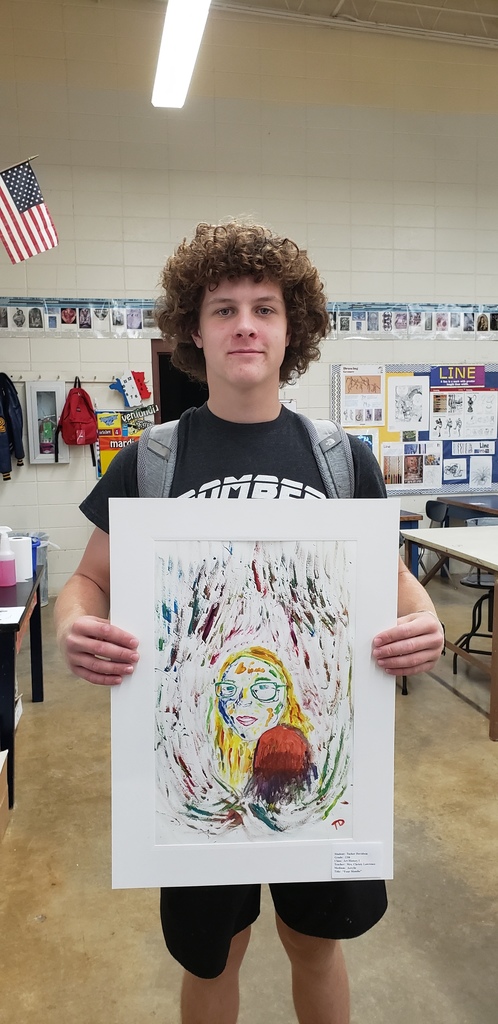 Mrs. Lawrence's Artist of the Week for September 29: Zuzanna Zachewisc 12th Grade "My Sketchbook Cover" Mixed Media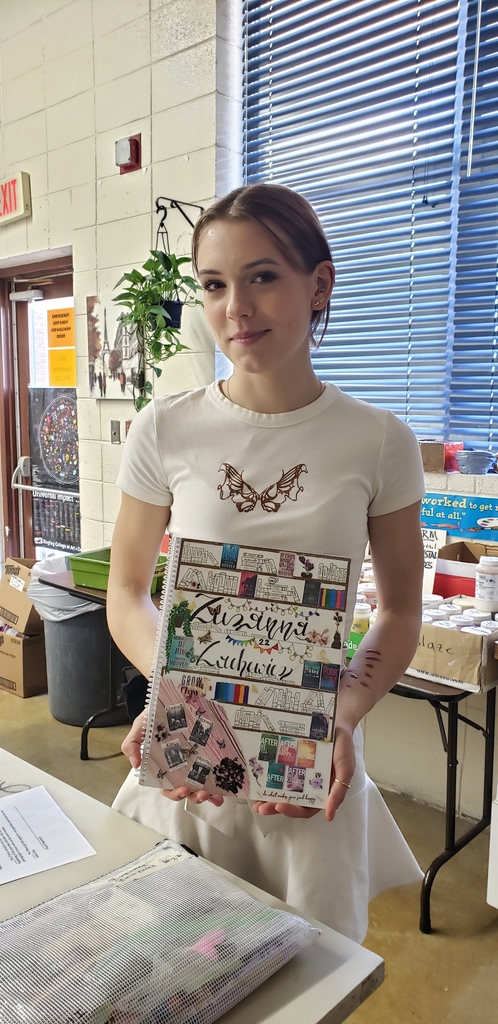 Earlier this month a group of ACME students got to tour Basscat as a part of National Manufacturing Day. Thanks to Basscat!


**Access to federal funds for families in Arkansas with the Child Tax Credit** Families with no income or low income could get at least $3,000 per child with the Child Tax Credit, plus $1400 with the third stimulus payment - even if they have never filed taxes before (and if they have not yet already filed taxes this year). There is now an easy form for people to file on their mobile devices in 15 minutes or less in English or Spanish. People have until November 15 to sign up this year at GetCTC.org/arschools.

Wednesday is our homecoming parade! Dress in layers and come celebrate! Parade begins at 5:30 at Redeemer Lutheran Church and ends at Guy Berry College & Career Academy. HUGE thanks to everyone who makes this parade possible!

Check out the prizes for Arkansas College Application Campaign Month as well as our first winners!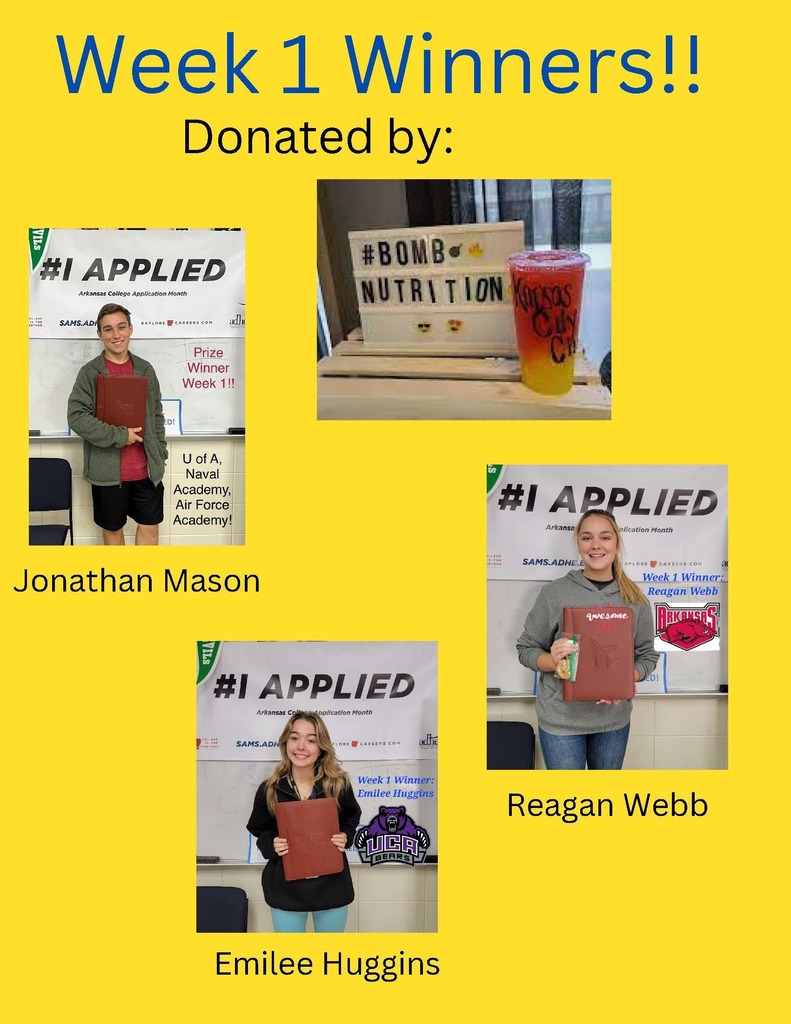 Congratulations to this year's Homecoming Court!

Flu clinic schedule: Oct 7 - Hackler Intermediate School 8:30 am Oct 10 - MHHS 8:30 am MHJH 12:45 pm Oct 11 - Kindergarten 12:45 pm Oct 12 - Pinkston MIddle School 8:30 am GBCCA - 12:45 pm Oct 13 - Nelson-Wilks-Herron Elementary - 8:30 am Flu packets will be sent home prior to the scheduled clinics. No student will receive the flu vaccine without signed consent.

MHHS Family And Community Engagement meeting Friday September 30 at 5 p.m. in Dunbar Auditorium Topics will include: •New and Fun things happening at MHHS: •NJROTC Drone class •Baxter Bomb Squad presentation •Title 1 information •Other news Hot dog dinner to follow! Come join us and then go cheer on the Bombers against Pulaski Academy!!!!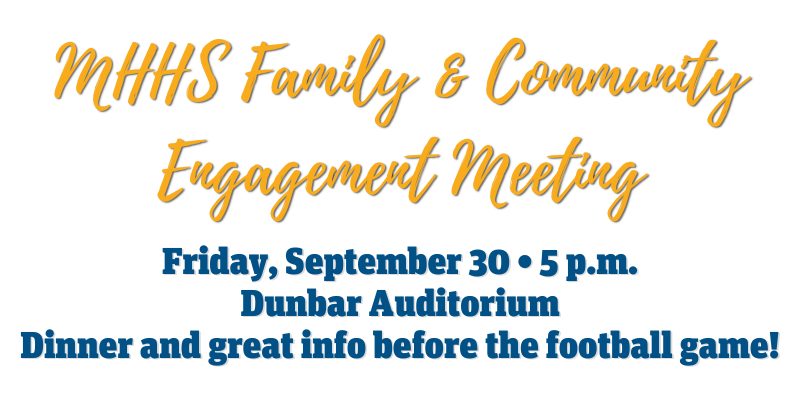 Our very own Mrs. Quick says you should apply for college "to show yourself that your hard work over the last 13 years can pay off!" #whyapply